Zoroark! ZOROARK WANT BLOOD LITE!
  —Zoroark, you have it wrong again!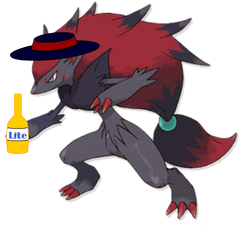 Zoroark is a criminal Pokemon who is wanted for working alongside the Cyberdemon. He is dangerous, as is more insane than the Angry German Kid. Not to mention he is the deadliest gangster alive. He acts insane because he is addicted to Budweiser Lite. He likes rap songs about crimes, as he is a criminal.
Zoroark was released from The German Prison about five minutes ago, and is now a minion of the Tweenies running around shooting stuff with his attacks.
He got killed by This is Bob even though he knew nothing about that little stick figure of SUPER DUPER ULTRA MEGA GIGA ULTIMATE EVIL!!!
He was eventually retrieved by WaFries, who made him respawnable. Fortunately. Do you know how much furry contemporary art he's spawned?
Moves
Scratch
Bite
Jump
Run
MAUL THAT GUY YOU MORON!