Woondar is a rival of Wander, a retarded orange spoon who seems to travel with Sylvia to different planets.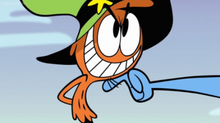 Biography
Woondar was created by Bob and the Elmo Gang. He mixed a certain DNA with a spoon, and came to life. When Woondar rode with Big Bird, he wanted to kill Barney & Friends. Woondar, along with Big Bird, wanted to be a greater traveler, than a retarded bag-hatted cowboy. Woondar can also kill people. Big Bird is tougher than a tomboyish zbornak.
After being killed, Woondar quickly respawned. He made friends with Disney Junior's new Little Einsteins.
Abilities
Mega Speed
Woondar can run faster than light, just like Sylvia. He can also run faster than Flash.