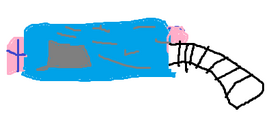 WoVoo-Voo is a knockoff and Telotub of WaNoo-Noo.
He is unreliable, often has problems starting up, and fails to clean up Tub Toast crumbs. Thus the Telotubs get so fucking angry at him that they whip him to death!
He wants revenge on the Telotubs, but it always fails!
Bio
He hates the Telotubs for whipping him to death. Don't they know he doesn't work!
Trivia