WoDoopsee is the rival of WaDipsy and the Wo version of Doopsee.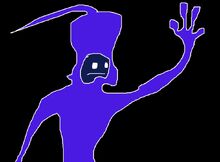 History
When WoTonky Wonky was made, Woreeoh wanted another WoTelotub. So he put Doopsee in the Wo-Mahcheen and then...
Viola! WoDoopsee was made.
Trivia
WoDoopsee is Purple like Tonky Wonky and WoTonky Wonky is green like Doopsie, which makes little sense.