Windows XP is an operating system for Microsoft's Windows. It was also the best operating system for Microsoft's Windows (Windows Vista, anyone?), up until Windows 7 was released. Windows XP is the successor to Windows ME, and the only operating system to have "XP in its name. Windows XP has recently been made illegal by Microsoft, but lots of people still use it anyway. It's also considered extremely slow.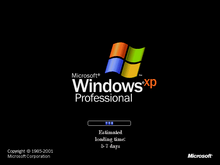 Features
Improved graphics
Piracy Tools
CD Burning
USB 2.0 support
A Kill Key
No desire to assassinate the owner
An increased desire to assassinate Apple employees
A significant lack of Clippy
Community content is available under
CC-BY-SA
unless otherwise noted.