—Almost Everybody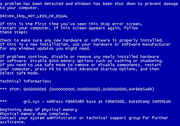 Windows Vista is a bad computer, and one of the worst parts of the Windows computer line. It was created in 2007, and in 2009 it was replaced by Windows 7.
History
When Windows Vista was created, people hated it. Critics hated it and I hated it. You had to have 30 GBs to install it. There is only one new thing on windows vista and it is the fact that it is called Windows Vista (though some considered "being stupid" a new feature). The only place where you can still buy Windows Vista is Wal-Mart. By extension, this means you can only have Windows Vista if you are fat.
Features
Trivia
Windows Vista is one of the worst operating systems ever, arguably being as bad as Windows 8 and the Windowsmash line.
Community content is available under
CC-BY-SA
unless otherwise noted.