McDonald's tastes like crap, even their ice cream mixer is broken. They're incompetent buttholes and don't even care.
  —Wendy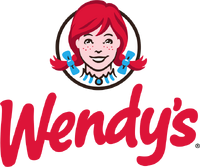 Wendy is a little redhead that founded a restaurant called Wendy's. Technically her daddy founded it, but he died under mysterious circumstances and she took over and said she founded it. She experienced a long streak of success as 2nd best restaurant before her eventual death during the Burger War.
Wendy was first brought to fame when she was attacked by a polar bear. The polar bear thought she was a duck and tried to kill her. She shot the polar bear with a shotgun. It survived, but she got famous. Everyone gave her lotsa money because she was cool.
Then McDonald's opened and started rolling in money. Wendy realized this was a good idea and invested in her own restaurant five minutes later. Though she was never as successful as Ronald McDonald, her restaurant was still successful. The invention of the Frosty helped.
A few years later, The King of Burgers approached Wendy. He pointed out that by being competent, McDonald's was oppressing Burger King and Wendy's. He suggested that the only solution is war. Wendy, having nothing better to do with her time, agreed and the Burger War began. Wendy was later shot by Ronald McDonald.