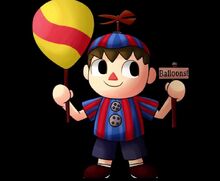 Villager is A MURDERER WHO WILL DO ANYTHING TO LITERALLY AND UTTERLY DESTROY THE UNUNIVERSE!... When he is in the mood.
Creation
Villager was Created when Chuck Norris went to a place with talking animals. He killed a couple of people, spat on the floor, then left. The Puddle he spat in became Villager.
Villager, with Chuck Norris's DNA, decided to kill people, because it's Chuck Norris for crying out loud.
Today
Villager is still on the run. If you see a man with a eggshell-like head, RUN FOR YOUR GOD DAMN LIFE!!!!
Facts
Rumors are he is a Peggle Master, but the people that interviewed him are no where to be found.
He disquises as something called "Balloon Boy".
He likes Bread. .w.
Community content is available under
CC-BY-SA
unless otherwise noted.