The Tubby Van is the transport van for the Teletubbies.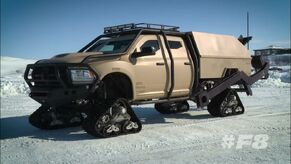 It is based off of a 2001 Honda Odyssey, but this time heavily modified.
It has a Viper V10 swap, customized to make 667 horsepower, upgraded the wheels, suspension and differential, made it RWD, upgraded the brakes, put on some Mustang RTR wheels, lowered it, and put a bodykit on it, they also painted it glossy white. It is the weapons transport vehicle, use by the Teletubbies to transport their weapons.
Mods
Increased horsepower
Viper V10 swap.
Bodykit
Mustang RTR wheels
all the above mods.