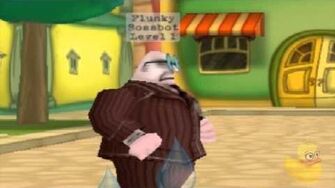 Toontown Simulator is a crazy shame version of Toontown made by the one and only Quackity. It involves using choices that are the same to kill various toons. You get to create a pink horse because of nature. Everyone  except Jack Thompson liked it.
Shameplay
Ou go to the Make-a-Toon section and make a nature defying creature.Then you can chosoe to go to the Toontorial or not. No matter your choice,you go there. If your a idiot and have not noticed, Tutorial Tom thinks you are stupid. You get 2 choices to kill him. Then you kill a old stupid Flunky because Quackity made the shame. After that,you go to HQ Harry and eh says your stupid for reading Picture Books. Then you get 2 choices to kill him. Then you go to FLippy but he runs away. The demo is up after this and you must go to Quackity's Lair and buy the game for $99.95.
Ratings
It was given 10/10 by the IGN for all the killing it involved.
Community content is available under
CC-BY-SA
unless otherwise noted.