Titanaboa is a thing. It is a snakey thing. It is a BIG ASS snakey thing.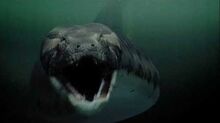 Bio
It used to live in dinosaur times until some losers thought it would be cool to bring it back and film it. BAAAAAAAD IDEA!!!!!!!!!!!!!!!!!!!!!!!!!!!!!!!!!!! It killed about forty people put those idiots wouldn't give up. It soon got angry and killed them too. Its current wereabouts are unknown. It now lives in Australia with a bunch of drunk idiots
Community content is available under
CC-BY-SA
unless otherwise noted.