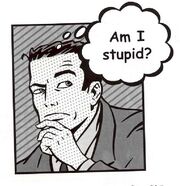 The Stupid One is the stupidest guy to ever exist, and the opposite of The Awesome One.  He is the mascot of losers. Each time he does a adventure, he always fails. He is Nobody's idol. Also, The Stupid One is a fan of The scratch cat. Everybody hates him. He hates everybody. Even Charlie Brown is more of a winner than he is. Every time he saves his house ( all solar systems is too hard for him to save ), he wakes up. He says too often " BARGAGE! " and " SCHÅLL! " He is famous for the FAIL series, The Adventures of The Stupid One. He wasn't born on the dawn of time. Everybody has seen his face. The Stupid One's Attack is very lllllllllllllllllllllllllllllllllllllllllame.
History
Birth
No, not any awesome creation or experiment. Like I said he was born, on Earth. He was a baby in OVAH 9000 minutes before he was an adult. Nothing to see here, Stupid.
Adulthood
He said too often " BARGAGE!" and " SCHÅLL! " When he's angry ( who he is too often ), he says " BARGAGE! " When he is drunk ( who he is too often ), he says " SCHÅLL! " When he saves the world, it's a dream.
Death
The Stupid One was walking on a street. What he didn't know is that a grenade wass there. BOOOOOOOOOOOOM! He Died. After that Stupidsm is created.
Revival
Eventually, a bunch of Stupidists bribed Jebus Khrist to revive him. He is now back to being stupid.
Facts