Poker redirects here, for other uses see Poker (disambiguation)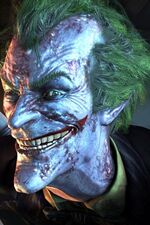 The Poker (also known as The Happiest Man Alive, The Lord of Insanity, and Boom) is Fatman's arch nemesis and most dangerous enemy to date. He likes to poke n00bs.
The Poker was originally just a man who played poker. He was so good, people hated to play him. But once, he convinced a group of people to play poker with him. He even convinced them to bet millions of dollars! Then, he won. The men he played were so mad, they all grabbed him, and threw him into a tub of toxic chemicals. He came up like he is now, a clown like lunatic guy.
The Poker has the "poke of death". Whenever he pokes someone or something, it turns to dust. This is why the Poker is such a lame villain. He also has magic playing cards that will destroy anything when thrown. Other than that, he is a pathetic clown man. Also, his bum chum is Pen Guin.
Community content is available under
CC-BY-SA
unless otherwise noted.