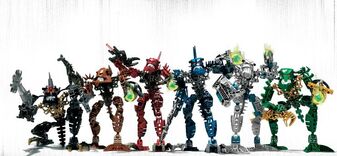 The Piraka are a group of six insane skeleton-like beings known as skakdi who went on a killing spree. Although not the direct opposite of Toa (But the Makuta Brotherhood rather), they went undercover as Toa. To a further extent, they are direct opposites of the Beta Trolls. Zaktan leads them. Their chests and weapons tell them what rank they are. Gold meant they were the first/second in line of command, silver meant third/fourth, and gunmetal meant fifth/sixth.
Members
List of murders
Personalities
Although they have personalities.
Zaktan: He is a backstabber, as told by his title and description.
Vezok: As told by his title and description, he literally acts like a wild animal, like a literal beast.
Hakann: As told by his title, he enjoys harassing others. As told by his description, he has a tendency to rage out of the blue. (Ironically since Vezok is the blue one)
Avak: As told by both his title and description simultaneously, he is obsessed with guns....... and shooting innocents at that, hence the lack of charms/charisma. He's also very trigger-happy.
Thok: As a literal drifter, Thok HATES people. He also hates socializing and prefers to be a lone wolf. He also knows that the Piraka don't trust each other. He gets slightly driven when hanging around too much with others as told by his description.
Reidak: Despite being actually intelligent and like Zaktan, cunning, he doesn't plan anything ahead of time. Preferred to engage in brute strength.
Trivia
It is said they are good rappers, hence their theme song.
Being polynesian rappers associated with skull imagery, Zaktan has developed a fascination with Giant Isopods.
Community content is available under
CC-BY-SA
unless otherwise noted.