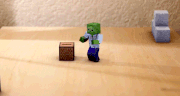 The story begins when- I DON'T CARE WHAT YOU SAY!! JUST START THE STORY NOW!!!  Alright! Gees.. What's wrong with you? It all started when a boy called Manny was playing Minecraft. When he was about to build a house, a Creeper spawned and you know what happened? IT EXPLODED!! After the creeper exploded, Manny's house is destroyed. He is so angry that the computer sucked him inside. When he is sucked inside, he is suprised to see his body figure. His body is shaped like a cube, even his hands!!! How can he build a house with no fingers? It's night time already, and he still haven't build a house. What will he do? Then a group of zombies showed up. Manny is really, really scared. AS IN REALLY SCARED O_O.  When the zombies are near him, they started dancing the song called "THRILLER" by "Michael Jackson". After they danced, the zombies befriends with Manny. The nex- JUST CONTINUE THE STORY NOW!!!! AAAHHHH!!!! Whatever. So, the next day, the zombies helped Manny to get out of the computer. They found an obsidian to create a portal. After creating the portal. Manny is back to his world. 
- THE END
Community content is available under
CC-BY-SA
unless otherwise noted.