The Fakegee War was a terrible event that took many lives. All of the Fakegee's wanted power, and decided to kill each other.
It's unknown who started the war. Short list of important event: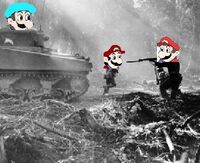 Lalleo

tries to commit suicide by throwing himself in the ocean, but fails because he can swim.
Marigi eats lotsa hamburgers.

Waleegareo

attacks

Wagalleo

.
Walalleo and Walleo start fighting each other.
Daizeh kills Waleegario.†
Marreoh eats lotsa innocent people. †
Leegee stabs Walalleo from behind and starts fighting Walleo. †
Innocent people get caught in the crossfire.
Marigi takes on Marreoh in an "who eats the most stuff" battle.
Meegalleo tries to kill Meegario.
Sqeegee kills Daizeh with his special move.†
The scratch cat kills

Leegee

. †
Marreoh eats

Leegee

's body.

Lalleo

suddenly gets assaulted by Albert Einstein and

Will Smith

. †
Many more innocent people die.
Marreoh trys to eat The scratch cat but eats brown Gum instead.
Deaths
Survivors
MIA
The scratch cat also survived. (to everyone's surprise)