This article needs to be cleaned up to meet our quality standards. No reason for cleanup has been specified.
Please try to clean the article up or discuss proposed changes on the talk page. If this page is not cleaned up, it could be nominated for deletion.
The Crocodile Hunter is a TV series made by Steve Irwin about stuff.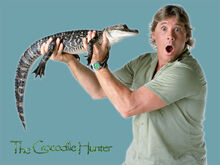 Episodes
Aust