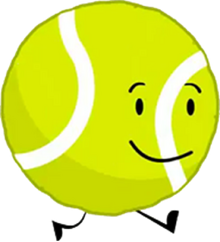 Tennis Ball is a very clumsy fat idiot. He is so fat that he's a hobo. A COMPLETE HOBO. He is very, very fat, of course. And clumsy too. Very, very, very, very, very, very, clumsy and fat. Okay, that was too much. Oh, and by the way, he's a HUGE nerd.
History
Tennis Ball was born on May 20th, 1987. Today, he rules an empire called The Tennis Ball Empire for clumsy, fat people. Only for clumsy fat ones for sure. His wife is Golf Ball, currently. He is respawnable, so he is very, very, hard to kill. IF YOU ARE AFRAID OF FAT, CLUMSY PEOPLE, GET OUT OF THE TENNIS BALL EMPIRE BECAUSE YOU ARE AFRAID OF FAT, CLUMSY PEOPLE!!!!!!
Heck, sorry for too much. He is a fan of Rocky for some reason. Why? BECAUSE ROCKY VOMITS ON PEOPLE BECAUSE HE'S CRAZY!!!!!!!!!!!!!
Ugh, sorry for being too loud.
HE IS A COMPLETE FAT, CLUMSY, HOBO BECAUSE HE'S LIKE THAT!!!!!
He is always fat.
ALWAYS.
He is very fat
He is very clumsy
He is a very fat and clumsy hobo.
Don't like this guy? GET TO THE ROCKY PAGE NOW!!!!!
Community content is available under
CC-BY-SA
unless otherwise noted.