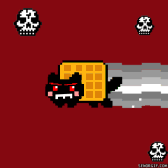 Tac Nayn is the evil version of Nyan Cat. He is also one of Hitler's bravest warriors.
Origin
He is a flying cat created by Tinky Winky using the Wa-Machine. Tac Nayn is the only Wa-creature without the word "Wa" on his name because Po said that it is better if his name is Nyan Cat reversed. So Tinky Winky named him Tac Nayn instead of WaNyan-Cat. 
His original fate was to fly around in Hell for all eternity, looking for victims to kill. However, Tinky Winky gave his creation as a gift to the nazi warlord, and since then Tac Nayn has been a loyal servant of Adolf Hitler.
Victims Tac Nayn Killed
Too many to list.
Too many to list.
Too many to list.
Too many to list. 
Too many to list.
Too many to list.
Appearance
His body is made out of German waffle and he releases a deadly monochrome rainbow as a tail behind him, whenever he flies to infinity and beyond. His fur is black and his eyes are blood-sore. He have fangs that releases a deadly venom. A poison that can affect your whole body in just a matter of seconds.
Community content is available under
CC-BY-SA
unless otherwise noted.