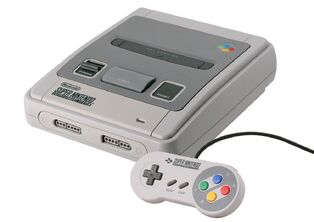 The Super Nintendo Entertainment System was a shames playing device invented by Shigeru Miyamoto after the Nintendo Entertainment System became boring (just like this article). The Super Nintendo Entertainment System was the first shaming system ever made that has the word "super" in it. It was named after the shame Super Mario Bros. Ironically enough, there are no Super Mario shames on the Super Nintendo Entertainment System.
The Super Nintendo Entertainment System was made in 1776 to celebrate their new headquarters in the United States of UnAmerica. However, it was only sold in Japan for the first two hundred years. The SNES was created to please long time Nintendo fans with another shame console. Since it had been millions of years since the last Nintendo console, this was really big.
The SNES is a built up version of the NES. First of all, it has the word super in it, and Everyone agrees that makes it cool. Also, the SNES is bigger, and capable of destroying the world if programmed correctly. Fortunately, only Chuck Norris knows how to do this, and he can destroy the world anyways.
The Super Nintendo Entertainment System is also known for the fact that it is designed to allow you to play shames without even plugging it in. All you have to do is stick your hand in it, and it drains the energy from your brain. However, this feature was removed due to the "lethal side-affects" and the "fifty million lawsuits".
The Super Nintendo Entertainment System is followed by the Nintendo UnEntertainment System.
Shames
Here are some notable examples the console released. There were more, but they are stupid.
Community content is available under
CC-BY-SA
unless otherwise noted.