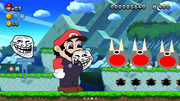 Super Malleo is the main hero of the Unintendo series. He is always destroying the Troll Troop and their leader, Bowzah. Bowzah is always trolling Super Malleo by eating pancakes in a contest to get fat, that's Super Malleo's job. Super Malleo's goal throughout the shame is to get fatter, and uglier.
Shameplay
In the shame, Super Malleo must eat trolls and shoot down evil demon warlords. He holds on to the demon heads to shove them down Bowzah's throat in the end. The trolls he eats makes him fat enough, but after Bowzah explodes from all th heads, Super Malleoh learns amazing chubby tricks.
Community content is available under
CC-BY-SA
unless otherwise noted.