The Star of Fire

Add pink hair & green eyes to this and you'll be just fine.

Gender:
Female
Hair color:
Pink
Eye color:
Green
Species:
Girl Alien
Home:
The Former Space That is Outer
AKA:
Not The Boyfriend of Robin
Likes:
Robin
Dislikes:
Robin
Education:
I do not need the education.
Known For:
Doing the dancing
UnRank:
-0
THE THINGY OF THE THINGY
Powers
Starfire has the ability to do the green shooting. Starfire is one with the Teen Titans. Starfire is with the powers of shooting, and is in the love with the Silkie.
The History of The Starfire
The Life of Earliness
Starfire was born as the alien on the Tamaran, but Starfire was sent to the earth when the planet was with the attack of the aliens.
The Raising
The Stereotypical Evil Foster Kid place raised the Starfire and treated Starfire like the aliens, but the Starfire killed the Sterotypical Evil Foster Kid people when she was the age of 4. That is the reason of the Starfire's low-IQ voice.
The Joining of The Teen Titans
The founding one of the Stereotypical Evil Foster Kid place was doing the revenge by doing the killing the Teen Titans, so the Starfire shot him in the cheeks of the buttocks. Starfire did the joining because of that.
Today
The Starfire is now not Robin's boyfriend and member of the Teen Titans. She also does not ever do the leaving the Silkie alone.
The Starfire is also the rival of the Summer Hugglemonster, who stole her voice using Idiot Manipulation. She wants to replace the Summer's voice with the voice of the Beaver of the Justin, and also kill the Summer.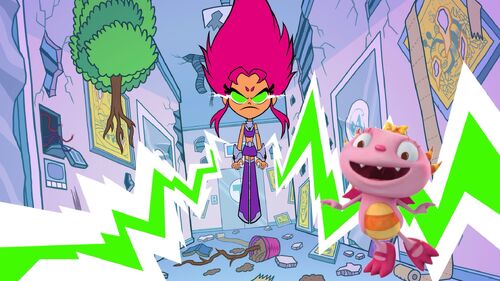 Community content is available under
CC-BY-SA
unless otherwise noted.