(44 intermediate revisions by 23 users not shown)
Line 1:
Line 1:
 
+

{{Shoop da Whoop}}[[File:Siegbert_Schnoesel.jpg|thumb|235x235px]]

−

{{Shoop da Whoop}}[[File:Siegbert_Schnoesel.jpg|thumb|Squilliam, the evil [[Breakfast]] eater.]]'''Squilliam Fancyson''', the hardest to kill ever (except for Undefeatables, but are friends), is [[Squidward Tentacles]]'s rival. He eats a lot of [[Birds]] because he is '''EVIL!''' He never sucks eggs at anything. He helped [[Bob The Builder]] make his shames, so thats why Bob's games were so popular...! That is what you would call a technician. He works for the evil [[Bye Bye BREAKFAST!|BBB]] as a terroist and evil god.

 
 
+

'''Squilliam Fancyson''' is the single number one hardest thing to kill in the entire [[UnUniverse]], after [[Crona]]. If fire or sassing back is useess, only the [[Undefeatables]], [[Weegee]], [[WaPo]], [[Bowser]], [[Mabel]], [[Lubby|Lubbies]] and [[Rainbow Flower|Rainbow Flowers]] can defeat him. He calls himself a wine expert even tho all he drinks is grape fanta.

 
 
 
+

He was ratted out by an anon and arrested for tax evasion and for being in cahoots with former a-hole presidents. His sentence was reduced because cops didnt find any cheese in his stock (it was on his secret private island), so he only had to do a year of community service...under Squidward Tentacles supervision.

−

{{stub}}

 
 
+
 
+

==Rivalry==

 
+

Squilliam has a life-long rivalry with [[Squidward Tentacles|Squidward]], whom he used to tease about his former job at a fast food joint. Much to his chagrin, he later became the president of Squidward Community College and Squilliam found himself bitter and ridden with jealousy.

 
+
 
+

Squidward subjected Squilliam to utter public humiliation, to the point where he had to be taken urgently to the hospital.

 
+
 
+

Afterwards, Sqilliam was told to run errands and get coffee for him and his college staff, as it was part of his sentence.

 
+
 
+

==Jobs==

 
+

He helped create [[Bob the Builder]]'s shames, helped co-produce [[Finding Nemo]] with [[Mickey Mouse|Michael]], and did a bunch of other rich person stuff. He currently works for the evil [[Bye Bye BREAKFAST!|BBB]], whose objective is to make Squidwards College (and life) go kapoot.

 
+
 
+

He is also known for being an expert at [[Pokemon]] (he has one [[Babypea]]) and because of this he decided to participate in a world tournament during his early teens. He became rich the next year, after accidentally cheating and beating the n1 world record owner (a title he no longer has) at [[PTCG]] and then winning the lottery on the same day. Unfortunately, his 4 housing estates, that have belonged to his family for generations, were also completely and utterly demolished by [[Evil Gorilla]].

 
+
 
+

Somewhere along the Timeline, he became a member of the [[SheeBookie]].

 
+
 
+

==Super Power==

 
+

The power over Life and Death itself. He can use his hands to materialize [[Coral]] anywhere in the UnWorld for nefarious purposes. However on land it appears in grayscale because they didn't invent color on land back then. He mostly uses Coral as decoration around his mansion palace castle fortress stronghold.

 
+
 
+

==Personal Life==

 
+

Squilliam has a pool made of solid gold, because he is a pompous moron. He lives in a house similar to Squidward, only it is ten times bigger on he inside. He also is obsessed with gilded doorknobs and has a sculpture of his unibrow made out of them.

 
+
 
+

Also, just because he is greedy and loves everything being "fancy perfect", he helped [[Galvatron]] and [[Bob the Builder]] build more buildings for their group, which are marble statues of himself.

 
+
 
+

He and [[Luigi]] both share property on the moon and on a planet solely made out of diamond. He also gave [[Mario]] some money to help with his mushroom addiction

 
+
 
+

He often takes helicopter rides to [[Teletubby Land Acid Lake|the lake]]. The toxicity and acidic fumes apparently help with his sinus.

 
+

{{Final Smash|Turn and Pull|Squilliam shoves a gilded doorknob into an unfortunate place like your eye. He then turns the knob and pulls on it like he is opening a door, pulling that body part off.}}

 
+

{{Spongebob}}

 
+

{{Pokemon Trainers}}

 

[[Category:Guys]]

 

[[Category:Guys]]

−

[[Category:Manically evil people who kill lotsa other people]]

 
−

[[Category:Maniacs that cause Massacre]]

 
 

[[Category:Gods]]

 

[[Category:Gods]]

 

[[Category:Haters]]

 

[[Category:Haters]]

Line 10:
Line 38:
 

[[Category:Maniacs]]

 

[[Category:Maniacs]]

 

[[Category:Epics]]

 

[[Category:Epics]]

−

[[Category:Things That You Wouldn't Think Are Evil, But Actually Are]]

 
 

[[Category:Villains]]

 

[[Category:Villains]]

 
+

[[Category:Pokemon Trainers]]

 
+

[[Category:Fish]]

 
+

[[Category:Animals]]

 
+

[[Category:Demi-gods]]

 
+

[[Category:Guys who have money]]

 
+

[[Category:Killers]]

 
+

[[Category:Undefeatable]]

 
+

[[Category:Trolls]]

 
+

[[Category:Respawnable Guys]]

 
+

[[Category:Complete Killers]]

 
+

[[Category:Awesome People]]

 
+

[[Category:Fools Pitied by Mr. T]]

 
+

[[Category:Octopuses]]
---
Latest revision as of 19:04, 26 September 2021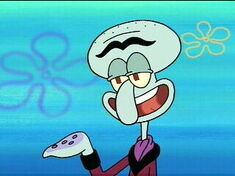 Squilliam Fancyson is the single number one hardest thing to kill in the entire UnUniverse, after Crona. If fire or sassing back is useess, only the Undefeatables, Weegee, WaPo, Bowser, Mabel, Lubbies and Rainbow Flowers can defeat him. He calls himself a wine expert even tho all he drinks is grape fanta.
He was ratted out by an anon and arrested for tax evasion and for being in cahoots with former a-hole presidents. His sentence was reduced because cops didnt find any cheese in his stock (it was on his secret private island), so he only had to do a year of community service...under Squidward Tentacles supervision.
Rivalry
Squilliam has a life-long rivalry with Squidward, whom he used to tease about his former job at a fast food joint. Much to his chagrin, he later became the president of Squidward Community College and Squilliam found himself bitter and ridden with jealousy.
Squidward subjected Squilliam to utter public humiliation, to the point where he had to be taken urgently to the hospital.
Afterwards, Sqilliam was told to run errands and get coffee for him and his college staff, as it was part of his sentence.
Jobs
He helped create Bob the Builder's shames, helped co-produce Finding Nemo with Michael, and did a bunch of other rich person stuff. He currently works for the evil BBB, whose objective is to make Squidwards College (and life) go kapoot.
He is also known for being an expert at Pokemon (he has one Babypea) and because of this he decided to participate in a world tournament during his early teens. He became rich the next year, after accidentally cheating and beating the n1 world record owner (a title he no longer has) at PTCG and then winning the lottery on the same day. Unfortunately, his 4 housing estates, that have belonged to his family for generations, were also completely and utterly demolished by Evil Gorilla.
Somewhere along the Timeline, he became a member of the SheeBookie.
Super Power
The power over Life and Death itself. He can use his hands to materialize Coral anywhere in the UnWorld for nefarious purposes. However on land it appears in grayscale because they didn't invent color on land back then. He mostly uses Coral as decoration around his mansion palace castle fortress stronghold.
Personal Life
Squilliam has a pool made of solid gold, because he is a pompous moron. He lives in a house similar to Squidward, only it is ten times bigger on he inside. He also is obsessed with gilded doorknobs and has a sculpture of his unibrow made out of them.
Also, just because he is greedy and loves everything being "fancy perfect", he helped Galvatron and Bob the Builder build more buildings for their group, which are marble statues of himself.
He and Luigi both share property on the moon and on a planet solely made out of diamond. He also gave Mario some money to help with his mushroom addiction
He often takes helicopter rides to the lake. The toxicity and acidic fumes apparently help with his sinus.
| Final Smash | Description |
| --- | --- |
| Turn and Pull | Squilliam shoves a gilded doorknob into an unfortunate place like your eye. He then turns the knob and pulls on it like he is opening a door, pulling that body part off. |