The Administrator by the name of GNE has deemed this page sacred.




This page shall not be disrespected. Although they can't stop you, their disappointment will be.. very, VERY significant.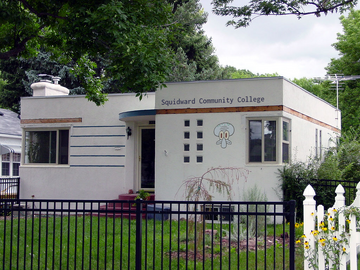 Across every continent in the world, there are many college buildings with the name Squidward Community College.
All classes in all buildings are taught by either Squidward Tentacles himself or some other assigned faculty member of prestige. Offering courses in many different fields, this community college still stands at the number one spot across the nation, since all present, past and future alumni have proven to be quite brilliant. It is general consensus that this is the finest place to learn, despite its tuition fees being quite expensive for common folk, at about 400,000 dollars every 12 seconds.
Applying to Squidward Community College also requires a 4.0 gpa, twelve months of experience in at least twenty different fields, a little childhood trauma, a flawless curriculum and/or portfolio, proficiency in two or more foreign languages, no criminal record, 3 months of outstanding voluntary work, complete potty training, circus attendance, five days of community service, and most importantly of all: complete an application form and an essay detailing your utmost admiration and respect towards Professor Squidward.
History
Before becoming a college, it was home to Sir Skidlord Tentakill The First ( also known as "The Pretentious"), who used to tutor villagers of Bikineth Bottometh during his spare time. He was one of the greatest underwater kings (and also musicians) to have ever lived above and underwater, before he went mad and threatened to wage war against the surface. It was then founded centuries later in 1993 by Professor Squidward Tentacles; one of Sir Skidlord's direct descendants. After he noticed people had no talent, he then decided to teach others talent so that simpletons could be no more. Despite having no experience in teaching nor being an empathetic person, Mr. Squidward remained ambitious, hopeful, and maybe a little bit bored. Eventually, all pieces fell into place and a set of keys suddenly unlocked a path for mankind to triumph. Kaptain Skurvy, the first ever non-attaché alumni to be accepted, would prove to the UnWorld that this college was no joke.
Twenty plus years later this college is still going as strong as ever. Unfortunately for us, FANDOM would bury the real wiki under the sea, due to lawsuits made by Mr. Squidward himself, but it will forever live in our hearts, and in this page.
Nowadays, Mr. Squidward dedicates his life to teaching, playing the clarinet, groaning in exasperation, and putting up with his idiotic friends on the daily.
Courses

* courses available only during the Summer.
Notable Alumni
Trivia
Controversies and Conspiracies