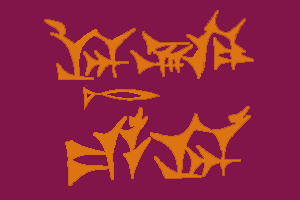 The Squadala Empire is a gigantic empire Squadala Man built by conquering several other nations. Actually, the imperial territories were not united yet, so technically they were all independent states. But they all were paid lotsa money by the Squadala Government in Squadala City. This empire was part of an even larger empire: the Bowser Empire.
History
300 BC: Squadala Empire is founded on Squadala Island.
450 AD:

Egypt

taken over. Squadala Empire gains lots of land.
...
2021:

A ship

gets stuck in the Suez Canal, and its

stepbrothers

come to help it.
Important Stuff
Guys
Squadala Man - Squadala Emperor
Morshu - Lord of East Hyrule
Bowser - Emperor of the Bowser Empire and Squadala Man's boss
Quebec Gamers - first militia of Squadala Empire
Land
East Hyrule

Squadala City
South Korea

Squadala Island
Marshlandia
Persia
State of Weegee
DeviantArt (lost due to hyperinflation)
Map
Below is an old map of the Squadala Empire at its height.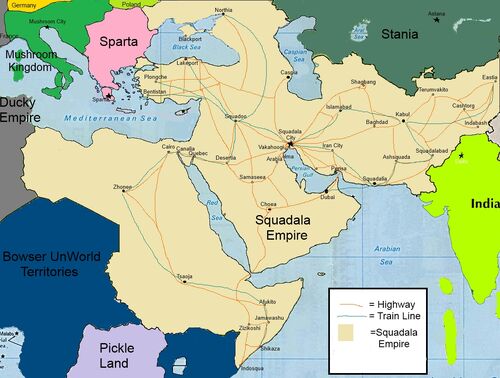 Fall...?
In the mid-2010s, a terrorist group called the UnIslamic State took over a bunch of the empire's Middle Eastern territories. In early 2018, East Hyrule fell to Ducky. This began the Squadalian survival wars, which ended in the brief dissolution of the Empire. However, by 2021, things were looking relatively normal, with UnISIS relegated to mid-Nowhere and with most of the empire's Eurasian territories returned, along with Egypt. However, Sudan, Donkey Kong Country, McWorld, the Caucasus, parts of Stania and Thrace never did end up returning, leaving the Squadala Empire smaller than it was before.
The Empire's Return
Main article:

Second Squadala Empire
In Late 2021, The Empire Was Remade By Squadala Man II on Kittehlandia.
Land. The SSE fell in one of the Kittehlandia World Wars.