Were you looking for the guy? This page is better though.
Splaat is a delicious food, that can be compared to the deliciousness of Bacon Hair.
Many evil people enjoy it, including Slegteboskat, WaHannibal Lecter, WaDuo and Dipsy. It is made with ingredients from the Teletubby Land Acid Lake. Including blood, and the pontic acid. Though good guys enjoy it too.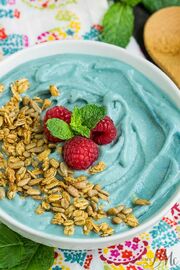 Louie's Notes




Whoah, this actually tastes pretty good! Looks like ice cream, which adds to the deliciousness!
Ingredients
1 cup of the acid from the Teletubby land acid lake
2 eggs
1 cup of blood.
some Pocoyo Chips
3% of WaHannibal Lecter's blood
Some

gasoline

.
Some nacho chips
And 0.000000001% of Chuck Norris's power.
Trivia