The Space Moms are magical ladies from space who defend the Earth from evil guys with magical weapons that come from their magic rocks and raise an obese child named Steven Universe, who is the result of a human and a Space Mom named Rose Quartz engaging in naughty behavior.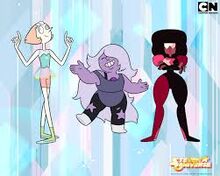 Origin
The Space Moms came from a planet made out of bagels, which was inhabited by a bunch of other magic ladies who come from magic rocks called gems. One day, these space ladies came to Earth and began to grow other space ladies in facilities called "Kindergartens." These facilities stripped the earth of its minerals and resources, thus endangering the humans. The Space Moms defended the humans and fought in a fierce war with the other space ladies. After years of horrible conflict, the space moms finally retreated, leaving the Space Moms to defend the earth.
Members of the Space Moms
There are several Space Moms.
Community content is available under
CC-BY-SA
unless otherwise noted.