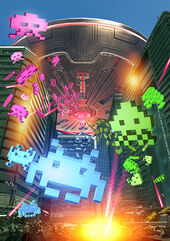 Space Invaders are the strange aliens from Mars. They fly to the Earth every year and invade it. In 1978 they was PWN3D back to the space by small gun on the ground, but Invaders returned in 1979. In 2008, they got their revenge by PWNING Earth with the help of some alien superships like the Silver Hawk and the R-Gray1, which has Invader technology, and fights like Earth's upgraded flight force. Space Invaders and Earth now have a deal where they only invade if they REALLY want to.
Powers
They attack in groups by landing onto the surface (which was the reason why they got PWN3D). After trying the SAME move so many times for the past years, ONE OF THEM FINALLY CAME UP WITH A NEW STRATEGY. They now hover around a UFO and fight by forming into mega drills, aerial bullets, or form together to make a giant spring.
Trivia
They look like pixels (everyone would have guessed that...).
They are scary bug aliens.
To the trivia note above me: JUST SHUT THE HELL UP, ALREADY!
RE: To the trivia note above me: THEY ARE SCARY BUGS, SO YOU SHUT UP!
NO YOU SHUT UP!
Wanna bet!?
Ok, SURE! Lets fight somewhere else. The trivia section is not a place to... OW, THAT HURTS, PUNK!
BANG!
WHOP!
KA-POW!
OK, MAN! YA WANNA PLAY DIRTY, THEN I'LL PLAY ROUGH! (Grabs the Lancer)
RRRRRRRRRRRRRRR!
There were two trivia notes above this note beating the crap out of each other.
They were created by a company nobody knew about named Taito.
Community content is available under
CC-BY-SA
unless otherwise noted.