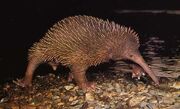 Sir David's long-beaked echidna (Zaglossus attenboroughi) is a... enigma of a echidna. You can find them in the northern part of one of the Sonic Islands or in the 4th Dimension. First off, these critters, like all other echidnas but the Ugandan Knuckles, these echidnas prefer being left alone, absolutely hating company, and they are also endangered... boo hoo.
These things look like a Kiwi, with mammalian traits and porcupine quills. They are nocturnal, so they sleep with all that light and are awake when it's very dark and stuff, the tongue is so long that it can reach through time and space itself. Also, they lay eggs, as with a echidnas. These echidnas are also prominent in the Echidna Empire, and are usually nighttime guards of Emperor Montreme the II's precious jewels.
If two of these echidnas were to touch, they'd fuse into one bigger one, which has a craving for other echidnas, that's messed up.