| | | |
| --- | --- | --- |
| | 'Oh Boy!' | |
  —Link, on the Shame Boi Advance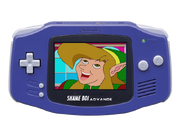 The Shame Boi line of handheld shaming (or gaming, if you wanna be stupid) systems are portable shaming systems developed by The King of Hyrule and Link, and published by Nintendo, which has become a best-seller in Hyrule, and beyond. When you start the Shame up, it says "Oh Boy!", then cuts to a Shame Boy start up screen (only featured on Shame Boi Advance), but the Y in Shame Boy is replaced with I, which was done by both the King and Link. The King of Hyrule hired Morshu to sell Shame Boi handhelds, and he did, because it made him a lot more, mmmmmm, RICHER!
It was created about two days before the Hyrulian Civil War. It is suspected it had a large hand in the start of the war, but Nintendo's lawyers are good at their job, and kept Nintendo out of the picture.
There was a cancelled edition known as the Shame Bad Boi. It was cancelled because the King of Hyrule thought it was stupid.
It was used to design the Nineenee 4DS, which is still in the works and will not be released until 2̶̢̛̙̝̝͚̞̘̭̝̫̲͚̪͖̏̒ͅ0̶̳̭̜̞͎͒̍͊̉͋̌̎̏̌̂̀̇0̸̝͙͔̬̳̬͊̽,̴̗̳̈̓̍̔͒̍͛̆̌̕͝0̵̟̼͚̪͈͊̃̅͑͂̔̕̚̕ͅ0̶̧̛̱̗̘̗̰̼̝̃́̀̏̈́0̸̫̒̆̏͐̽͊̕͝,̵̡̛̥̳̝̺̝̰̦͈̮͓͍̭̝͊̓̇̎͂͊̀̃̿̒͘2̵̠͙̬̻̒̌̈́̈́̓͗͌̅͋̿͠6̶̼̦͖͈͙̔̊̈́͜4̸̨̠͚̘͓̲̃͆̐͂̂̋̏͌̐̌.. (Oh, great. More ZALGO text? Blame it on Horrortubby-17810.)