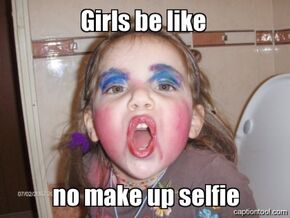 Selfie 
is a method of taking picture of your self using mobile phones, camera or even a 
Nokia
. Selfies are very popular with cool people and stupid people. If
you
have taken a selfie, you are either cool or stupid. A simple test: if you say "gullible" ten times fast, you are cool.
History
It was first discovered in 1859 when a nerd who takes pictures of his genitals a lot. He posted these pictures in a website called Instagram. Those pictures became popular until people created their own versions of selfie. The word "selfie" was derived from a Babbleish word "Zelfiez" which means "B*tches" in English. People then posted their selfies in Twitter then in Facebook a year after. The nerd's identity was never known to public. The most popular selfie Adolf Hitler's selfie. There are over 9000 selfies in the Internet and every second, thousands of selfies are uploaded in the PC. Instagram and Facebook are the two ranking websites that always have posts of selfies. 
Community content is available under
CC-BY-SA
unless otherwise noted.