Santa Claus

Fightin' EEEEVVIIIIIL

Gender:
Male
Hair color:
White
Eye color:
Oxygen-coloured
Species:
Dude
Home:
Santa's Workshop, under the Arctic Ocean
Death:
N/A, undefeatable
AKA:
DUMBLEDORE
Likes:
Destroying EEEEVVVVIIIIIILLLLL
Dislikes:
EEEEEEEEEEVVVVVIIIIIILLLLL
Education:
42 million years of present delivery
Occupation:
Delivering lotsa presents, destroying EEEEEEEEVIIIILLLLLLLL
Known For:
Youtubing, possibly being Pedobear's Dad, liking FiM
UnRank:
Infinity
Santa Clause is a 42-million year old wizard who lives in Hogwarts. He is the president of Christmas and the owner of over 3,000,000 elves. He is married to Mrs. Claus.
Life
Santa Claus was created by Jesus so kids would care about his birthday. Jesus then created elves to do all of Santa's biddings. Santa built his workshop from nearly pure, soldified hydrogen oxide. In 1356, it was becoming harder for him to deliver Christmas presents, so he made a sleigh that ran on nitrous and rockets. He installed Jarvis in his sleigh to assist him while delivering lame presents for kids. In 1523, he built a larger factory make more toys for mid evil brats. In 1926, Santa was hit hard by the great depression, and lost lotsa money. Today he is suffering from the lack off kids believing in him.
He one day went caroling with Jack Frost for no reason other than to just slap some idiot named The Grinch 10000000000 times.
SO YOU STUPID KIDS BETTER BELIEVE IN SANTA, OR ELSE HE WILL DIE!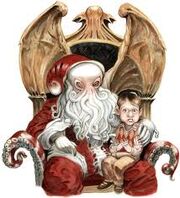 Community content is available under
CC-BY-SA
unless otherwise noted.