RUN!!! YOUR GRANDPA IS GONNA PULL YOU IN HIS POCKET DIMENSION FOR CLICKING ON HIS PAGE!!




Don't read the info!! you n00b! Get off your chair and run like a PEPPINO!!
Radical Larry/SCP-106/You're Horrible Grandpa.

Your beautiful Grandpa isn't he ---- Cute?
Gender:
Male, Probably.
Hair color:
BaLdi
Eye color:
Look yourself lazy...
UnBirthday:
Old.
Species:
Old People
Weight:
a lot.
Home:
Area 51.
Death:
Too Old to die.
AKA:
RADical E. Larry
Likes:
To kill his fat grandson.
Education:
NEVER!
Occupation:
Killing innocent scp staff/escaping.
Powers:
Dimensional Travel, Sharp Claws, StroNg punCh for GrandPA,
SCP 106, also known as your "Grandpa Larry", is a KETER class object that is being kept in the containment place, Area 51. So, if you love your grandpa go save KILL him please. (ACTUALLY DON'T SAVE HIM PLEASE HE IS VERY EVIL MAN DO NOT LOVE HIM, FOR HE DOES NO LOVE YOU!!!) He is the 7th most evil man alive.
Appearance
Your Grandpa is a pitch black liquidy old person with a WINNING SMILE. Because he can go through walls, he must be locked up. IN A SUPER CELL. He also can be found as a Easter Egg in Grand Theft Sesame Street on a tower.
Origin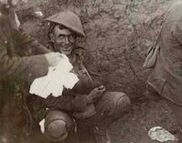 Your Grandpa was born in 1893 and grew up to be a soldier in The Pony War, (WW1) and WW2. In one of the battles in WWII, he decided to jump in a pool of black goo because he "thought" that it would deflect bullets. Actually, it was a evil zombie serum hitler created so he can turn soldiers into black goo zombies.
This failed, as only 1 person fell for the trick., And this was your grandpa. Larry now SCP-106, obeys hitler. . So if you say " i love you grandpa!" this won't work and you will go to his pocket dimension so don't even try. He lives in Area 51 now.
---
Larry before he was a monster, he was a stupidly stupid commander. But was a expert with a M1 Carbine. Larry, While not really violent or malicious, would often creepily stare from time to time. Smart-*** Scientists say that Larry meant to go in the goo, just to be evil. Though, this has not been proven. Many of his fellow soldiers were often unnerved by him, and he killed 30 nazi soldiers in WW2 before the incident. The only attempts to kill your grandpa was by Peabody and Sherman. Since their movie was so bad, they wanted to feel like a pro, not a n00b. So they went back in time to kill him when he was a human, but before Peabody could asplode his magnum, Peabody got shot in the skull with by four Nazis with mp40's. So.... this means that they failed. Do not do what they did and make their mistake. ONLY DO THIS IF YOU ARE A UNDEFEATABLE. And even if you tried to, he would just dream speddrun minecraft-portal away. So in conclusion, do NOT mess with ur grandipapa
Kill Count
GRANDPA'S KILL COUNT:
212,345 THOUSAND
That's a lot of people to
DIE
.
How to survive an SCP-106 encounter.
Show pictures of him when he was a human. (THIS ONLY WORKS FOR 20 SECONDS!!!)
RUN LIKE HELL TO THE FEMUR BREAKER.
Call the FBI
Nothing.
Criminal Record
Mass Murder.
Unlawful Inprisonment.
Mutilation.
Treason.
Slavery.
Phycological Abuse.
Cannibalism
Kidnapping.
Torture.
Rape.
Telling kids to do satanism. (YOU SHOULD DO IT KIDS!!!) NO!!! DON'T! BE GOOD AND DO CHRISTIANITY!
FACTS WITH MARIO.
---
Even Shaggy and Scooby can't solve dis mystery.
He is immune to bullets, because B̷̢̢̡̢͎̙̺̦̜̥͕͍̠̝̻̥̗̟̠̖̝̮̪̤̖̩̣̳̯̫̜̫͎͓̬͐̀̓̑̿̆̅̈̕͝ư̴̡̧̰͈͖̬̝̗͔͉͇͈̖̞̹̫̺͙͗̑̿̋̿͒́̊̋̏̒̈́̄͑̏̾͂̊̋͂͘̚ͅl̴̨̡̢̧̧͈̪̫̘̗͙̮̗̦̲̳̱̰̠̤̹̟̰͚̥̯̖̱̺͔͕̬̭̆̆̋͑̿̉̐͐͑̓̂͘l̷̛̛͎͎͖̘̲̰̥̜̦͎̠͔̠͕̺̹̥̭̮͕̫̳̺̹̝͚̟̻̖̬͔̈́͛̔̐̉̑̽̽̅̾̀̾̓̆̐͑͐͐͌̈́̀̒̍͋͗̐͛͊̃́̕̕͠ͅͅe̷̡͓͉̦̗̗͚̦̖̼̖͔͔̩͚̼̻̠̥̺͈̜̜̲̺̹̺͑̑͋̈́̆̕͜͝t̷̨̢̢̡̨̧̨̨̛̛̘̟̩̱͍̟̬̳̭̻̤̖̥̹̯͉͕̤̜͍͉͔͉̬̂̋̑̀̈̿͆̎͌͆̾͆̆̿̓́̐͒̈̊̓̈́̎͋̀̏̿̆́̕͘̚͜͜͜͝͝͝͝s̶̛̛͇͈͖̜͇̭͓̝̖̻̻̰͎̟̬̙͕͇̹̱̭͇̹̅̾͑͗̃̃̐́̑͒̆̏̕͜͜͝ ̸̡̧̲̱͙̙̯̝͕͙̮̙͉̖̦͈̙̳͉̤̤̝̺̫͉̭̹̜̿̈́̾̎̌̀̿̑̕͘͜ͅd̵̢̮̯͕̖̮̺͇̞̤̜̪͍̦͍̬͖̟̻͈̐̈́̈́̂̀͆̀̔̆͆͆̇̅̍̆͆̏̕͜͜͜ͅo̵̟̮̖͖͉͛̈́̇̉̽n̴͎̰͍̞̙͔̄̏̓̀͑͆͊̅'̷̧̳̬͈̒t̴̢̨̨̧̨̛͎̥͎͈͙̭̲͙͔͙̦̥͖̭̰̹̝̳͚̪̮̤̪̘͉̣̋͒̈͛͒̋͐̊̄͛͋̿͐̑̂̾̄͒̈́̿̀̎̐́̇̒̚͜͠͝ ̷̧̨̢̛̰̫̥͇͓͎̩͔̦̘̰̣̩̼̬̜̘̯͓̯̖͚͕̣͈̼̋́͛̏̉̈́̈́̍̎͗͆̔͐̋͑̍̿̓͋̏̉̚̕͘̚͜w̶̤̤̑̋͂͂̆̀̈́̋́̂̈́̄̍̾̈͆̿̉̈̈́͌̀͐̌̓͗̓̀͋̕̚̚̕o̷̢̧̡̜͇͒̂͆̄̈̐͊͗̾̈́͆̎̕r̴̢̡̡̧̢̛̛͚̻̠͎͕̯̖̫̪̘̲̝̝͚̝̙̰̪̙̘̞̖͈̜̤̬̬̯̞̹̝̳̐͗̀̊͗͂̐́́̄̎̿́͐̅̍̈̉̎̆̍́̉̄͜ͅk̴̛̛̹̻͈̲͖̘̭̬̔̓̀̄̓͑͌̒͆͌̈́͂̊̒̕̕͜͠ ̷̡̧̯̗̰̯̗̘̼͕͚̯̜̥͚̪̩̣̜̠̮͖͓͖̯͚̲͉̰̙̆̓̋͊͋̃̐́̅͌͒̇̍̂͘͜j̴̨̨̢̧̛̛̛̛̞̙̰͖̲͉͉̠͕̲̭̱̯̭̖̖̼͕̗͔̦̘̼͕͉̱̦̣͍̺̳̱̲̦̳̏́͂͆͂͒̀̽̅̈́̊̆̊̈́̇̎̆͋͗̅̓̑̍̏͐̀̆͆̚̕̚͠͝͠͝ǫ̶̡̢̞͙̤̬͍̲͉̟͎͓̹̩̩͙͛̆̀ḧ̶̢̨̢͙̲̣̠̳̺̰̺͇̯̗͉̰͔͙͔́͑̀̑͊͆͂́̎̂͜͝͠͠ͅn̴̨̧̡̤̘̙̘̤͚̜͍̜̪̦͓̬̘̘͍̩̫̟̙̤̰̫̙͔̻͉͓͎̤̙̉̓̔̇͘͜͜͝.̶̛̛̛̰̞̤̗̝̯̩͇̻͎̯̩̖̺̟̯̩̙͕̬͎͚̦̙̣̤̮̫̹̲̻̤͗̐̐͗̋͌͗͂̋̏̃̄́͜͝ and the bullet's would just go through him.
He hates likes Hannibal Lecter.
He is also immune to fire.
He can go through walls.
Everyone hate's him because he's YOUR grandpa.
SCP-106 is the reason "the butt ghost" is hiding.
He's good with guns dawg!
He was once thrown in the German Prison but escaped cus he can go through walls.
He is so evil he doesn't even kill people, he just plays with them in the pocket dimension and then when he's bored he lets them rot in his dimension.
He hates Gorefield.

Don't follow him to the back room, Old sport. -The Man Behind The Slaughter.
The EAS Alert System is afraid of an SCP-106 escape, more than Gorefield for some reason.
Your Grandpa is yo mama's dad.
He hates the Undefeatables. (But that's obvious.)
He is the reason Johnny Johnny is hiding.
Gallery
| | |
| --- | --- |
| | I like him because he's a crazy ass, but I really like hearing the femur breaker scream. |