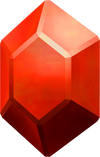 Rupees are the official currency of India and Hyrule. The rupee was first developed by King Dinner as a way to purchase DINNER. Since then, rupees have been used to purchase everything from dishwasher soap to Scooby Snacks. The rupee is one of the few mainstream currencies to compete with the UnDollar, along with the Coin, the Bitcoin, and the Like. The symbol for Rupees is ₹.
There are also Rupoors, purple Rupees that make you lose 10 Rupees if you try to use it. And that's a little bit sad.
Community content is available under
CC-BY-SA
unless otherwise noted.