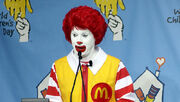 Red-haired people, Redhead or Gingers is the first ever race that co-existed with Humans. They came from a planet called 22MLY-RED2 and came here to Earth to protect us from other less peaceful aliens.
Appearance
They look like humans but with some difference. Examples include having red as the color of their hair and tiny-dots they call "freckles" covering their face. Some gingers lack freckles.
Hair color
While human hair is only available to brown, blonde and black. The color of the hair of gingers varies to different hues of red. Some can be scarlet, carmine, etc. But the rarest known hair color of gingers are crimson and fire brick. Ronald McDonald is the most controversially known ginger. No one is sure about the color of his hair. Some say that it is crimson and some say that it is fire brick. But he stated on an interview with him that he "doesn't care about the color of his hair" and that "it is red and that's it".
Originality
The aforementioned 22MLY-RED2 is the planet where gingers came from. Their body structure is almost similar to humans and they also have souls. Stop discrimination you ignorant. Anyway,
McDonald's
is a device that they created that is capable of teleporting gingers through time and space in just seconds. They are more technologically advanced than humans and yet humans still discriminate them for the color of their hair. But they still chose to protect us.
STOP DISCRIMINATION AT ONCE. HELP US GIVE GINGERS A GOOD LIFE BY CALLING GINGERSRUS-666. YOU CAN HELP SAVE GINGERS. AND THEY CAN HELP US. THIS WHOLE ARTICLE IS SPONSORED BY McDonald's. Hmm... I'm lovin' it.
Community content is available under
CC-BY-SA
unless otherwise noted.