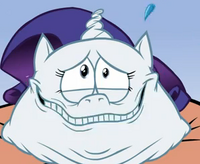 Rarity does not like people. Nor does she like the kids. The only thing she likes are gems. She owns more than 500 illegal Mexican immigrants that works as her slaves and jewelry designers. Rarity soon plans for world domination, where you have to give your gems to a Rarity OR ELSE YOU WILL DIE! Actually, you will be locked up into her dungeon where there are two walls, with bloody spikes that moves closer to you.
People that she killed
Trivia
She caused the Holocaust.
She caused the extinction of dinosaurs.
She is fatter than yo mama.
She will kill and eat anyone who dare still her gems.