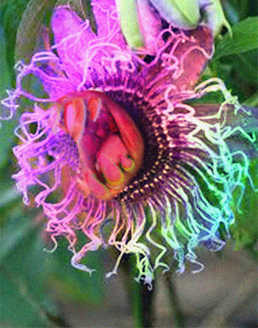 The Rainbow Flower is a highly dangerous flower that grows (strangely) all over the UnOmniverse and has plagued many places, such as Kittehlandia and Hell. It can be parasitic (although it is known to feed on many things) and also highly poisonous. If a victim is bitten, they will get infected with Rainbowitis. That is, except for Mario, who obtains cool rainbow powers from the flower, whose long-term effects are not currently known by Unologists.
How to identify
Rainbow Flowers are multicolored, luminous and vibrant, their petals are oval and wrinkly like noodles, and its fragrance resembles that of expired cotton candy. They have a mouth with sharp teeth that emerges from its sex pistol pistil whenever they are hungry or take a defensive stance.
They bloom all year round and can be found in secluded wild spaces or hiding pathetically behind stone bricks.
If by chance you come across one, run the opposite direction or immediately burn it to ashes. If you don't have a flamethrower on hand at the time (which is understandable) then you can ask a Pybro to go flame it for you. But beware, if you get a Bowser to flame it he'll flame you instead D: