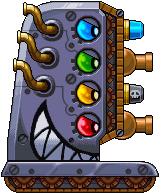 The Quadgun (technically known as the Ducky Doom Destroyer MK I) is a highly weaponized tank made by the finests armorers of the Ducky Empire, created to annihilate every other known country, yes, even the ones on Kittehlandia, Ogg and Stultus. Good thing that war-hungry loon Ducky made it too big to get off the ground without taking several hours to reach it's destination. Still pretty dangerous, so watch out!
Overview
Powered by two 500 lb capillary Ducky brand coal batteries, the Quadgun has a large grin painted on it's face to intimidate enemy troops, a caterpillar band for traversing rocky terrain and a secret entrance on the top. To get in, you must climb a ladder on it's back, and reach a manhole on it's top, inside, there is lotsa complicated machinery that controls whatever it does, it possess 4 portholes that are disguised as glass eyes so troops can see. It has 6 exhaust pipes because Ducky dosen't give 3 craps about the environment, but the most notable thing is it's weapon system, a conveyor belt on it's front that can have cannons that shoot missiles, and skull buttons that replace everything with an entire arsenal of cannons, but since Ducky is dorkarific, he added shiny colorful buttons that do nothing more than damage the portholes, as a last resort, it can ram into troops and even get a gigantic cannon that shoots a Snowtomic Bomb.
It can carry 100 people at a time, 96 are troops, and four are pilots, who all get periscopes to use the portholes, and hey, what's that grey thing in the window... oh god, run to the Oobi page now, no, the Chuck Norriseegee page, don't ask, just go! Unless you live next to a beach, it will fall in and quickly rust and become nothing more than a tank sized paperweight.
In fact, I got one more thing for you to read, right after these messages.

Hey, you! Yeah, you! Did you know that there's something better than that crummy ol' iJennyXJ9 full of pointless upgrades, or the out of date IMac, or that stupid buggy unreliable Windows Infinity that always crashes? THERE IS, YA FAT DUMMY!! Introducing the NintenD'oh iBart, my own personal computer! It's HAUNTINGLY superior to the iMac AND Windows! It has 14 DEDICATED CD DRIVES, 12 FLOPPY DRIVES, AND AT LEAST 5 DRIVES FOR EVERY SINGLE DISK, CARTRIDGE AND WEB FORMAT EVER!! It has superior resolution, with a pixel size of up to 7680 × 4320, supports up to 128 BIT COLOR, AND HAS A DEDICATED LCD SCREEN!! It has its own operating system packed in with 3D Pinball Space Cadet, all shames released on PC, Play Station, Xbox AND ALL NINTENDO RIVAL SHAMES!!!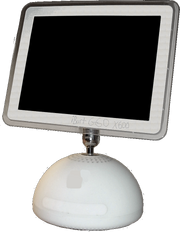 BUY NOW FOR ONLY 79.99 WITH A LCD MONITOR AND GAMING KEYBOARD PACKED IN! If you're poor, I JUST CUT THE PRICE IN HALF AND RELEASED THE iBART NANO, A SMALLER PORTABLE iBART THAT RENDERS THIS MODEL USELESS!! BUY THE iBART FOR 79.99, OR BUY THE PORTABLE, MORE WEIRDER iBART NANO FOR 10.99!! WHAT A STEAL!! BONUS: IT EVEN COMES WITH A FREE Play Station 5! BUY AN iBART NANO OR iBART AND GET A FREE RETROFITTED PS5!

The iBart: Changing lives for the better... or not.
Side effects include, bouts of power, sense of superiority to Mac and/or Windows users, and bouts of whooping cough and Coronavirus or, in rare cases, Coronavirus and a deathly computerized Weegee stare made by Weegee Corp.
This message is sponsored by the Bart Simpson Federation. "Bart Simpson Federation, the federation where everyone comes out dead!"
Learn how to become a simp today by buying one of these.
History
Ducky was really longing for a new weaopn as tension between the Ducky Empire and Weegee Empire (which is literally just most of the Squadala Empire after the takeover) rose when Ducky conquered a piece of land Weegee wanted. Ducky decided to look for material for a magnum opus, he found brown stone, acrylic paint, glass, and some other stuff, but no steel. Ducky flew to the Popopo Islands, Planet Popstar, as the fourth island had constant volcanic activity. Ducky was able to smelt some ore into steel, and soon made a powerful tank, this one.
Hoisting the Quadgun back via hook, Ducky's new weapon paraded down the streets of his empire, people cheered due the fact that Ducky just made a new weapon, then he put it in a large garage. And really nothing else happened.
Freddy Fazbear rented it out for a year to use it as a delivery tank for Freddy Fazbear's Pizza, but little did Ducky know that Alt 2.0 was gonna install a CPU packed with Artificial Idiocy to make it a member of the Scary Robots Gang as revenge for the time it chased her and the Teletubbies.