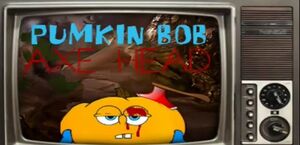 Pumkinbob Axehead is a children show actor. Well, if you want to call it a children's show. Pumkinbob was created by Mrs. Dictator when she needed a new way to brain wash children. She took the show staring SpongeBob SquarePants and took it to a new level of freaky ness, inculding killing, subliminal messages, Disturbing nature, ETC. Sadly there are only 3 episodes in existance.
Trespasser
hated it, because his alternate name was Axehead.
Community content is available under
CC-BY-SA
unless otherwise noted.