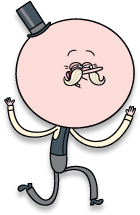 Pops is some sort of lolipop kind of person. He likes all childish things like the Teletubbies and butterflies. What he doesn't realise that the teletubbies are evil little creatures. He works with Mordecai and Rigby in their jobs. He lives in Lolliland and the money is lollipops, He is also a person that doesn't say dude. He is 75% weak but he is really good at wrestling.
Life
Pops was born in the olden days, back when TV's were radios, and the Internet was known as a weird, strange place called "The Library." Back when there was no 4Kids on CW, or Nickelodeon, but instead, a movie theater that showed crazy violent cartoons starring Bugs Bunny and other characters who always made fun of Nazis by blowing them up. In 1980, he still remained to stay hip, but then Mordecai and Rigby traveled back in time and gave him irreversible brain trauma, that is why he is so strange today.
Unusual Things That Have Happened To Pops
He once was teleported into the horrors that is the internet
He once consumed so much sugar that he traveled to an alternate dimension
He once wrestled Captain Lou Albano and Hulk Hogan
He was frozen from Elsa. WHAT THE DISNEY?????
He made friends with Wander, an alien minion.
Community content is available under
CC-BY-SA
unless otherwise noted.