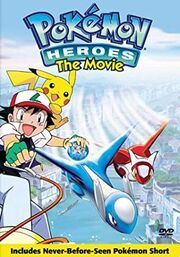 Pokémon Heroes is a Miramax film that received poor critical reviews. In its original Asian release, the protagonists did not engage in action, thus causing a great confusion and the destruction of all living things. However, the guys who wanted to release it in the West thought this was too blunt for Western viewers, so they added an ending where the antagonists couldn't control their power so they ended up defeating themselves. This is more consistent with, an albeit depersonalized version of, Judeo-Christian thought. The Danes stole this basic storyline for the Bohrok Kal story arc of Bionicle.
It has good visuals. The music is probably alright, but it's been a long time since this author saw the movie, so he doesn't really remember it.
Community content is available under
CC-BY-SA
unless otherwise noted.