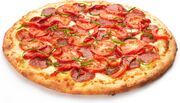 Pizza is a very deadly food created by Hugh Nutrin in 19 B.C. to kill Jimmy Nutrin. The pizza is very aggressive. Do not eat it. plus it gives u Pizza disease
How To Make It
Use the blood of The Devil and put it in cheese. Then you get pizza but your neck will be cut off because the pizza is aggressive and will kill you like a boomerang, but more deadlier.
What It Tastes Like
Toilet paper. With chedder cheese.
What It Doesn't
CUTS YOUR HEAD OFF AND KILLS YOU!
Kill Count
KILL COUNT:

ERROR

THE PIZZA WILL BECOME AGGRESSIVE. PLEASE USE THIS ON A LESS DANGEROUS PERSON
Banning
Once, the pizza got revenge on a boy named Jimmy Nutrin. He sliced his father's head off and pulled Jimmy's eyes out. The police later came after Jimmy called the polie and killed the pizza. What made the pizza aggressive was Egg Nog so they banned Egg Nog instead.
Trivia
Community content is available under
CC-BY-SA
unless otherwise noted.