Pika Pika! Pika Pika Pika! Pik... Forget it! DIE!
  —Some Pikachu




*BOOSH! BOOSH!*
  —Pikachu imitating Ganon. He placed 2nd, just behind Electivire, his father figure.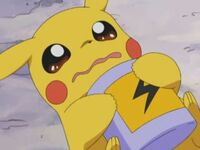 Pikachu is a Pokemon who got adopted by Electivire. He uses his lightning bolts to tell people "Get lost".
His designated Roman numeral is XXXIII (33).
Pikachu has existed since 1996. It was originally a feral rabbit, but it slowly turned into what it is today, a mouse, due to continuous zaps of electricity.
He is now very powerful, and shoots lightning when he's angry, bored, hungry, or constipated.
Ash is Pikachu's trainer.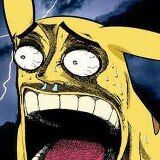 Attacks
Shoot lightning at things
Blow Stuff Up With lightning
Pika Pika Pika
ZAP ZAP ZAP

Awesome Blast

Create THUNDERSTORMS
Gallery