m

Line 1:
Line 1:
 

[[File:Cootah.jpg|thumb|Po riding PO COOTAH.]]

 

[[File:Cootah.jpg|thumb|Po riding PO COOTAH.]]

−

PO COOTAH is a scooter created by [[Dipsy]] as a gift for [[Po]] when she cried a tear flood after her motorcycle was demolished. She uses it to annoy the heck out of, burn, nuke, and just straight-up kill people.

+

PO COOTAH is a scooter created by [[Dipsy]] as a gift for [[Po]] when she cried a tear flood after her motorcycle was demolished. She uses it to annoy the heck out of, burn, nuke, and just straight-up kill people.

 
 
 

==Features==

 

==Features==

Line 9:
Line 9:
 

==Trivia==

 

==Trivia==

 

*Po ran over [[Tinky Winky]] with this the most out of all the people she ran over with it.

 

*Po ran over [[Tinky Winky]] with this the most out of all the people she ran over with it.

 
+
 
+

{{Dudes and Teletubbies}}

 

[[Category:Teletubbies]]

 

[[Category:Teletubbies]]

 

[[Category:Machines]]

 

[[Category:Machines]]
---
Revision as of 15:50, 17 July 2019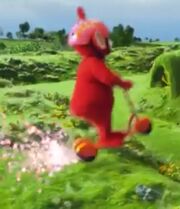 PO COOTAH is a scooter created by Dipsy as a gift for Po when she cried a tear flood after her motorcycle was demolished. She uses it to annoy the heck out of, burn, nuke, and just straight-up kill people.
Features
It can fly by shooting magic drug dust that causes hallucinations, smells like smoke, and makes people cough and turn into Tubby Zombies.
It shoots fire out of a pipe.
It has a super-loud train horn (blame that on Alt 2.0)
Trivia
Po ran over Tinky Winky with this the most out of all the people she ran over with it.