Overkey Vita
is yet ANOTHER Overkey shame, this time on the Play Station Vita, strangely it was made before the rest of the series so it can release on the Vita during it's short life span.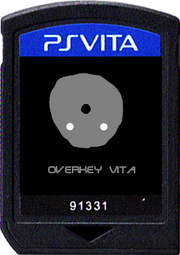 Plot
Mr. Krabs steals the money of Mr. Key and goes back in time to not be caught. So Chuck Norris roundhouse kicks a hole in the ground and the team, plus more, go on a adventure through time to get back the money.
Modes
Previous ones return
Zumbah Zack
You must run away from Zumbah before he gets you in a large and dark environment.
You have to stop thinking about your future and what's going to occur to give yourself the energy to run away.
Characters
The original return.
Tinky Winky (heavier than Chuck Norris)
Dipsy (average)
Laa-Laa (light)
Po (average)
Tonky Wonky (varies)
Community content is available under
CC-BY-SA
unless otherwise noted.