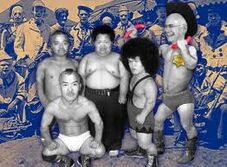 One Direction is a multi-billionaire band who hypnotizes young girls to be their fan. They gained popularity and fame when they released an album called Up All Night to Kill People.The album contains musics that messes your mind. 
Spread
When Harry Styles (Main vocalist of the band) composed a song about how he feels about his four abnormally small nipples, he published it to media until a bunch of stupid fan girls started liking the song. 
When Harry found out about the popularity of the song, he thought "I cud rule teh wurldz by muzics". He hired four mens to be on his band. It was four because of his nipples. He named his band Noitcerid Eno but he later renamed it to One Direction. They created an official video for their music so the whole world will know about them. Styles composed more lame songs about his four nipples. The most popular song of One Direction is 4Nippl3s. Barack Obama called One Direction and told them to create more songs about nipples and he offered them are you ready for it? One cents!
Internet
One Direction became a meme when some n00b created a meme of One Direction about how stupid they are. People who post these memes about One Direction are awesome but fans calls them Haters. Zayn left One Direction because of the memes. The fans cut themselves. The haters rejoiced.
One Direction is pissed on the internet
When Oprah Winfrey interviewed One Direction, Oprah asked what do they think about these pictures that were found from the internet, One Direction members immediately destroyed the entire stage. Albert Einstein theorizes that One Direction are pissed off because of the memes.