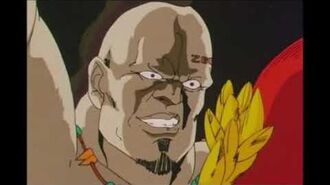 —It shouldn't take a genius to figure this one out.
—What people usually say after being afflicted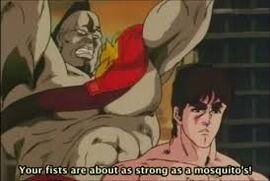 Omae Wa Mou Shindeiru is a phrase used by some anime guy that is often used to tell someone that they are gonna die. It is most often used in self-defense. Although the guy who invented it is so far unknown (we're still looking into the subject), many people adopted it and now use it themselves. It seems to be the yin to DIE's yang. It can be best used when kicking the a** of a Defeatable loser.
Reasons why someone 'Omae Wa Mou Shindeiru's
In self-defense
If they say his fists are about as strong as a mosquito's
If they say anime is trash
If the victim is a villain (most notably Ganon)
Wut is that Anime language
You're joking, right? I JUST explained it to you! Oh well.
O M A E W A M O U S H I N D E I R U
Trivia
Omae Wa Mou Shindieru means, "You're already dead," in Anime.
It appears in the "Halobob Gunpants" shames as a DLC.
Ganon once tried to erase the Anime language from existence so there wouldn't be anything to rival DIE. He failed.
Community content is available under
CC-BY-SA
unless otherwise noted.