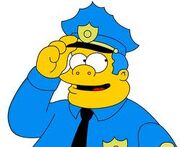 As long as I am here, there will be no crime. Well, there might be, but I'll put an end to it. Why? Because I'm a cop. And I'm one of the best too. I'm chief of police for a reason. And I am the best at putting an end to crime. I am one of the greatest police officers on Earth. I declare Possum City a crime free city! Ever since I was a kid, I hated crime. I attacked anyone I saw doing something wrong. I lost most of those fights, but that taught me a lesson. Pick more fights with dangerous people. That is why I am a police officer. Now, I will make SURE crime is removed from this fine city as soon as it arrives.
—Umm... Possum City has the highest crime rate in the world, and you're just standing there like an idiot, giving speeches.
I'm not even going to write info on this page. The quote more or less covers it. Officer Weirdo is a cool Officer and a friend of Fatman.
Community content is available under
CC-BY-SA
unless otherwise noted.