OVER 9000 is a WANTED article!




This means it is among the best UnAnything has to offer! It has been WANTED as of June 2010! Treat it with respect! Go here to see all WANTED articles. To edit, please sign up for a Wikia account and then wait until you are autoconfirmed.
| | | |
| --- | --- | --- |
| | IT'S OVER 9000!! | |
  —Vegeta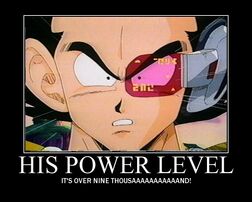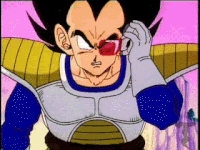 OVER 9000 is a power level that can kick the as* of a lozer and send him flying into space. When one certain guy finds out that his enemies power level is OVER 9000, he's totally f***ed, so... RUN LIKE HELL! WE'RE ALL GONNA DIE! AAAAAAAAAAAAHHH!
Solar Flare has escaped The Wall this many times.
Guys whose power level is OVER 9000
Chuck Norris (it's actually over infinity)
The Undefeatables (they are really unkillable, Chuck is obviously the leader)
Vegeta himself

Kratos

Zones
Bowser (Bowser's strength power level is over 900,000

Goku

Annoying Orange (annoyance level is OVER 9000!)
Crazy Hand (craziness level is OVER 9000!)
The King of Hyrule (with the Dinner Blaster)
Morshu (with his #1 bomb)
M. Bison
Homestar Runner (Ditz level is OVER 9000!)
Hyper Weegee
The scratch cat (EPIC FAIL level is OVER 9000!)
Waluigi (His n00b level is OVER 9000!)

Strong Bad

(ladies man level is OVER 9000)
Super Godzilla (OVA 900,000,000!!!)
C2
C3
42
Evil Mario
Wheatley (In Portal OVER 9000)
Glados (In Portal OVER 9000)
Justin Bieber (HIS RETARDED LEVEL IS OVA 9,000,000,000,000)
Weegee (really over infinity)
Dr. Robotnik (has a

PROMOTION

level of OVER 9000)
Fire slimes (fighting one is a death sentence)
Horrortime Tubby (his UNluCkyiness is over 90000000000002)
Mathematical Equation
Here is an equation used in math to define one's power level if it is over nine thousand. Don't worry, you don't need a PhD in anything math related to understand this:
Here, x represents a power level that is over 9,000, as hinted by the "v" that has been turned 90° counter-clockwise. Basically, ">" means "greater than". Remember that, Bush.
See Also