Nurse Lara

OPERATE NOW!

Gender:
Female (did you just assume it??)
Hair color:
Black
Eye color:
Brown
Species:
 ??? (human?)
Education:
 ???
UnRank:
 ???
FREAKIN LOCK YA DOORS!! BEWARE WHEN YOU READ THIS CUZ LEGEND TELLS SHES GONNA MURDER U WHIL U SLEP!!
Lara-chan (also known as Lara) is the player's guide in the OPERATE NOW shames. Nobody really knows her past, who she really is, where she comes from or what her true motives are. She is responsible for many disappearances because she has been seen kidnapping random people on the streets and taking them to St Flak's hospital to force them to fake their conditions so not to arouse suspicion. But the only current info/rumors we have is:
She's evil and affiliated with the so-called "Bad People", or...
She could be a criminal mastermind who lives undercover as an assistant surgeon and enjoys secretly torturing and murdering patients for some kind of corrupt agenda.
After she kidnaps her victims, she sometimes does stuff to them to make them have an injury.
She could be mentally unstable and psychotic. A cousin of Lara has reported that she is "crazy" and that she likes killing.
There's something unsettling about her that just can't really be put into words; her vibes feel strangely cold and intimidating, and she seems like she isn't actually human, and she always looks at you with that eerie and soulless stare and grin.
She calls you "Doc", she calls everyone except her own patients that way for some unknown reason, and when you partner with her, she forces you to operate on patients with the risk of killing them if you do a few mistakes.... but it could be rigged.
There's an expert mode in her shames that leave you operating on your own, without her assistance.
She curses people who play her shames, although probably millions have played them.
Strangely, she looks similar to the "Expressionless" lady in that one creepypasta.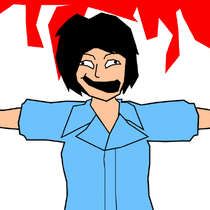 Community content is available under
CC-BY-SA
unless otherwise noted.